Direct Response Copy
sales letters / sales pages
You want to sell your product as fast as possible to as many people as possible... without going through long years of brand building & awareness?
NO PROBLEM.
I can write sales letters and sales pages, long-form and short-form, text and video, alpha and omega.
What Do You Need For Fast Sales
That Bring In The Big $$$?
Short answer: Me (← told you it was short).
Long(er) answer: It's actually a 3-step process that I've learned to master in the past 8+ years, writing direct response copy for hypercompetitive markets (survival, health&fitness, SaaS, recycling & clean energy).
► STEP #1: Find the FACTS that make people trust you blindly in just a matter of seconds.
► STEP #2: Create fun STORIES that grab people's attention and keep their interest alive.
► STEP #3: Use PSYCHOLOGY to combine them in an emotional domino leading to a surefire sale.
If even one tiny piece of the domino is slightly misplaced, people will not even blink before clicking on the X in the top right corner and move on.
Feels familiar?
End the vicious cycle here!
If you've ever tried to write your own sales pages or hired a copywriter who didn't master this type of copy, you know that it's the fastest way to business hell.
The most important thing for you and your company right now is to let a pro work their magic and make you those darn sales.
Click on that flashy button and I will...
✔ Write the copy.
✔ Entertain your customers.
✔ Build a flawless domino.
✔ Make ALL the sales!
Website Copy
Homepages & About pages
Let's play a game.
It's going to be fun, I promise. PLUS, it will give you the most earth-shattering A-ha! moment of your life.
And that's because you're going to experience what it's like BEING your website (<-- yes, you read that right).
Here's what you need to do:
STEP 1: On your next business meeting with new clients, do this:
Wear the best outfit you've got.

Be confident and charming.

Keep the conversation interesting.

Never mention the weather.

Make them nod a lot.

Make them smile.

Make their eyes grow big with curiosity.

Make them feel at ease.
→ See how fast they call you to sign the contract.
STEP 2: On meeting #2 with the same clients, do this:
Wear the sloppiest clothes you own.

Don't comb your hair.

Don't brush your teeth.

Hell, wear only one shoe!

Walk like you're about to faint.

Talk nonsense.

Take a little nap in the middle of the conversation.

Make them sweat with embarrassment.
→ See how fast they "remember" that urgent thing they had to do.
That's exactly how your website copy works.
Which one do you want it to be?
Let's face it:
Your customers are harder to please than ever.
And to make it nail-biting, hair-pulling stressful... your competitors have already lined up to steal them from you (I can see the line growing longer than for limited-edition rainbow donuts in Soho).
These are tough times for online businesses.
The good news is that we can change this statement into "These are tough times for OTHER online businesses"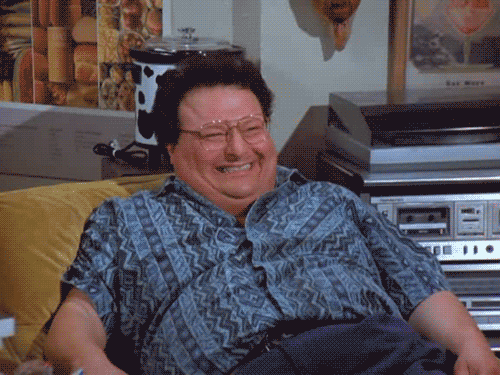 We can add a customized evil laughter if you like .
I already chose mine. You'll LOVE it!
If you're ready to turn your Homepage into a customer magnet and your About Me into a thrilling blockbuster story, go wild on the button below.
Best part: Once I'm done with it, your website will do all the hard work for you 24/7. Employee of the month -- EVERY month!
Email Copy
Sales emails / nurture sequences
Brutal truth:
Most marketing emails are SO bad, they don't even get deleted.
As in, the person receiving said emails doesn't even bother to click *one* button to delete them. Not worth the effort. That's how bad they are.
They just slowly rot at the bottom of the inbox. Forever and ever.
Illuminating truth:
Best-paying customers come via email marketing IF it's done right.
As in, you get repeat customers who trust you 110% and will buy your products without thinking twice. No effort needed. No money wasted.
They happily open your email AND read the whole thing. Every time.
Great Email Marketing =
Your Fastest Way To Passive Income
When you deliver real value and entertainment via email, you don't need to invest thousands in advertising campaigns.
No need for media buying.
No trial and error with YOUR money on the line.
All you need is a solid email sequence or a value-packed newsletter and you'll have your loyal readers jump at the chance to buy from you.
Customers waiting for your next offer
So if you're excited about...
→ cutting costs and saving tons of money
→ shaving hours off your busy schedule
→ getting rid of that dreaded "launch stress"
→ getting a steady stream of passive income as soon as possible...
... Book me FAST and I can start sending your customers emails so good, they REFUSE to delete them.